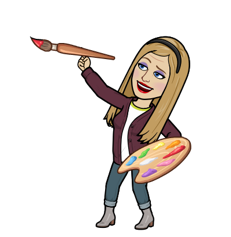 Mt. Bethel's Marvelous Art Specialist, Mrs. Trosclair, Presents:
Kawaii Kids
Do you have a 3rd, 4th or 5th grader who LOVES to draw especially in the anime/ manga style of cartooning?  Kawaii Kids is the newest student-led drawing club at Mt. Bethel sponsored by Mrs. Trosclair.  Students will be supplied with drawing tools and warm-ups to hone their skills in simple animal, facial, and figural drawing.  But that's not all!  Students will develop leadership and presentation skills as they guide other club members in their drawing area of interest and expertise.  No experience is necessary, but a strong interest in drawing is recommended.  This club is not to be missed! 
Program led by Mrs. Trosclair
Mondays 2:30-3:30 (Grades 3-5)
Max: 25 students per session
Cost: $240
Around the World
Around the World is a cultural exploration for students in Grades 1 and 2.  Students will experience diverse cultures from around the world through their arts and crafts.
Program led by Mrs. Trosclair
Wednesdays 2:30-3:30 (Grades 1-2)
Max: 25 students per session
Cost: $240